Publication Date:
Publication Schedule:
Quarterly (Apr, Jul, Oct, Jan)
Principal Analysts:
Sungho Yoon, SEMI
Format:
Adobe® PDF (.pdf), Microsoft® Excel® file (.xls)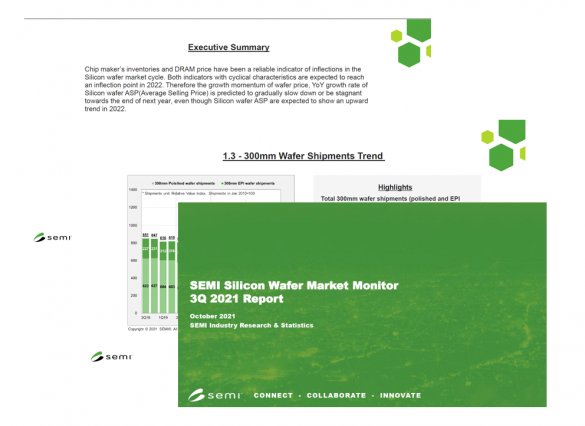 Do you want to learn more about the global silicon wafer market? If so, this report will satisfy your needs by providing quarterly silicon wafer shipment data, broken out by region as well as wafer size, such as 150mm, 200mm, and 300mm. Additionally, it covers supply/demand dynamics as well as silicon wafer pricing trends and forecasts.
Table of Contents
Executive Summary
1. Quarterly Silicon Wafer Shipments
2. Top 5 Silicon Wafer Suppliers
3. Supply and Demand Analysis
4. Silicon Wafer Pricing Trends
5. Wafer Start by Device Type
6. Quarterly IR Comments & Industry News Updates
**Multi-user and Enterprise licenses must be purchased when more than 1 user accesses SEMI reports/databases**
Product Information
Features

Quarterly silicon wafer shipments by wafer size
In-depth analysis of Top 5 silicon wafer suppliers
Data on silicon inventory, wafer manufacturing equipment investments, and CAPEX trends
Insights into key silicon wafer market indicators

Benefits

Access current and future data on the silicon wafer market
Gain insights on silicon shipments, supply/demand trends, and ASP projections
Improve investment and business planning with current and validated data
Access to benchmark data used by financial institutions, industry experts, and top-tier companies worldwide