Publication Date:
Publication Schedule:
Quarterly (Mar, Jun, Sep, Dec)
Principal Analysts:
Christian Gregor Dieseldorff, SEMI
Chih-Wen Liu, SEMI
Format:
Microsoft® Excel® file (.xls)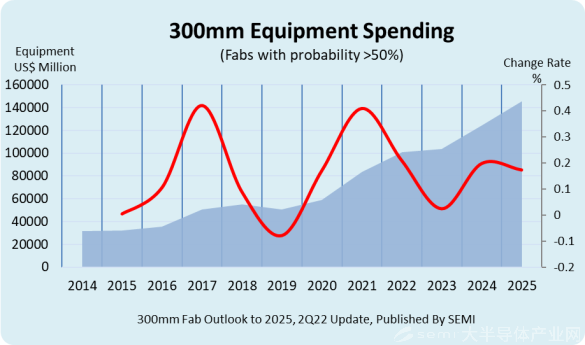 This report tracks more than 340 fabs/lines worldwide and more than 70 companies and organizations around the world. This edition extends the forecast to 2025, providing insights into current and future investment activities in 300mm semiconductor fabs and informs business planning and capacity additions.
May 31, 2022 Report Highlights:
Since last publication in Mar 2022, the Market Intelligence Team at SEMI has done 93 changes on 73 fabs/lines including 12 new 300mm fabs/lines.
Fab equipment spending continues to rally with record levels in 2022 breaking through the $100B mark with 101B (21% YoY). Growth rates continue to rally through 2025 with record breaking investments.
The database shows 60 new 300mm semiconductor volume fabs to begin operation from 2022 to 2025, raising the count to 199 volume fabs by 2025 (including EPI). The number is higher if including low probability fabs.
**Multi-user and Enterprise licenses must be purchased when more than 1 user accesses SEMI reports/databases**
Product Information
Features

Twelve-year report with data by quarters from 2014-2025
High-level summaries, tables, charts, and graphs for presentations
Detailed data in fab construction and equipment spending by major product segments, such as Foundry, NAND Flash, DRAM, Logic, Power, etc.
Fab capacities by fab line, by company, by product types, by geographic locations
Fab status includes planned, constructing, equipping, in production, fab closures, and wafer size conversions

Benefits

Access current and future data on worldwide 300mm fabs, including announced/planned future fabs
Gain insight into up-to-date analysis with verified and validated data on new investment, technology upgrade, capacity expansion, and transactions
Improve investment and business planning with validated current data and forecasts
Access to benchmark data used by financial institutions, industry experts, and top-tier companies worldwide