Publication Date:
Publication Schedule:
Quarterly (Apr, Jul, Oct, Jan)
Principal Analysts:
Paul Cohen, SEMI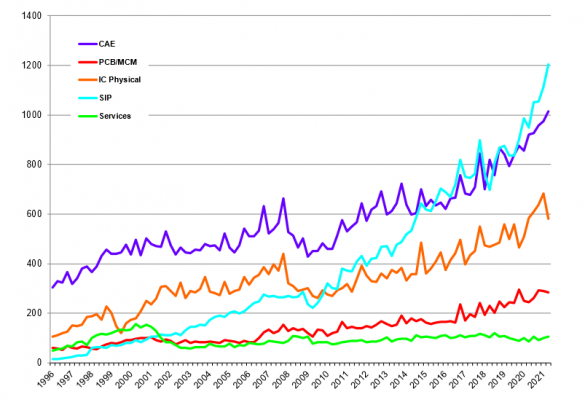 The Electronic Design Market Data Subscription provides timely quarterly data on revenue and headcount trends from EDA, Semiconductor IP and Service providers that enable semiconductor chip design. Since the report is based on actual data reported by companies in the design ecosystem, it is widely used as a measure of the industry's performance and for identifying future opportunities.
Table of Contents
1. Tables Section
Total Revenue by Region
Services Revenue by Quarter
Category Revenue by Quarter
2. Charts Section
Total Category Revenue by Quarter
Total Revenue by Segment
Quarterly Revenue by Region
3. Reporting Companies
EDA
SIP
Employee Headcount
Notes
Appendices
**Multi-user and Enterprise licenses must be purchased when more than 1 user accesses SEMI reports/databases**
Product Information
Features

Features 4-year time span by quarter.
Quarterly data breakout by product category.
Quarterly data breakout by geographic regions - Americas, EMEA, Japan, China, Korea, Taiwan, and India.
Historical data from 1996 to the current quarter presented via trend graphs.
Annual summary report summaries YoY growth rates covering a 5-year period.

Benefits

Actual revenue data - not a forecast. Confidential data is collected and aggregated by an independent third-party accounting firm.
Gain insight into industry trends across product categories and geographies.
Headcount data shows hiring trends across geographic areas.
Reliable primary source of data for strategic planning, project funding, and resource allocation.