Publication Date:
Publication Schedule:
Published Quarterly
Principal Analysts:
Inna Skvortsova, SEMI
Format:
Microsoft® Excel® file (.xls)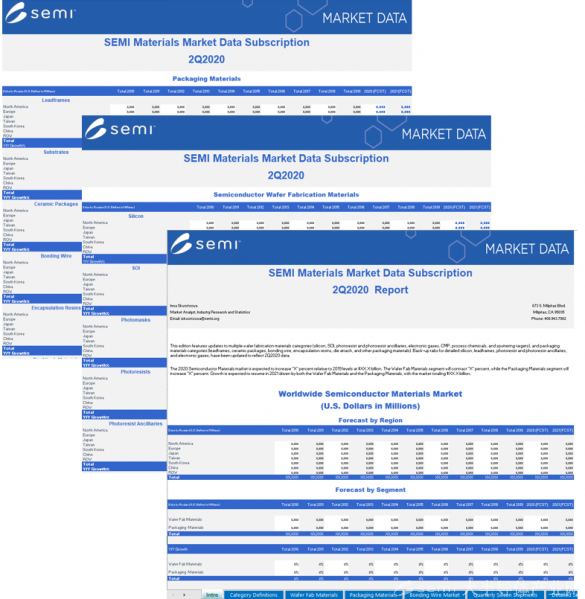 The SEMI Materials Market Data Subscription includes current revenue data along with two-year forecast and ten years of historical data.
The report contains 10 segments for wafer fab related materials and 7 segments for packaging related materials. In addition, quarterly revenues are included for photoresist, photoresit ancillaries and electronic gases. Shipment numbers are included for silicon* (quarterly) and leadframe (monthly).
Seven regions of the world are covered in this report including North America, Japan, Korea, Taiwan, China, and Rest of World (ROW).
All sales revenue estimates are reflected in U.S dollars.
BONUS: Includes one additional report
-Photomask Characterization Summary (Report)
**Multi-user and Enterprise licenses must be purchased when more than 1 user accesses SEMI reports/databases**
Product Information
Fab Materials Covered: Silicon, SOI, Photomasks, Photoresists, Photoresist Ancillaries, Gases, Process Chemicals, CMP, Other Wafer Fab Materials;
Packaging Materials Covered: Leadframes, Substrates, Bonding Wire, Die Attatch, Mold Compound/Encapsulants, Ceramic Packages, Other Packaging Materials
Tabs of Spreadsheet
- Intro
- Category Definitions
- Wafer Fab Materials
- Packaging Materials
- Detailed Annual Silicon Data
- Detailed Annual Gas Sales
- Quarterly Silicon Shipments
- Quarterly Photoresist Sales
- Quarterly PR Ancillary Sales
- Quarterly Process Gas Sales
- Monthly Leadframe Shipments
- Bonding Wire Market