Publication Date:
Principal Analysts:
SEMI and E. Jan Vardaman of TechSearch Inc.
Format:
Microsoft® Excel® file (.xls)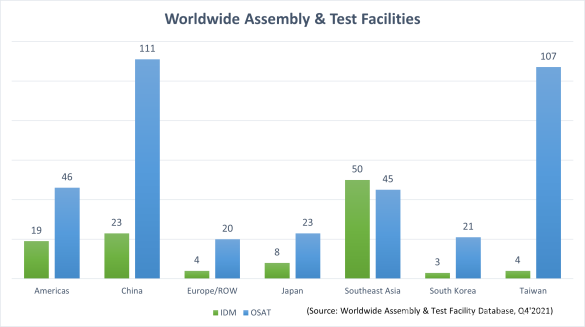 This database is a comprehensive data file tracking over 475 total back-end facilities of IDMs and outsourced semiconductor assembly and testing manufacturers. This database offers access to and insights into global OSAT facilities in China, Taiwan, Korea, Japan, Southeast Asia, Europe, and the Americas. The report also highlights packaging technology offerings by manufacturing location. Details include:
Plant Site technology capability: Tape and Reel, Test
Packaging assembly service offered: BGA, specific leadframe type such as QFP, QFN, SO, flip-chip bumping, WLP, Modules/SIP, etc.
**Multi-user and Enterprise licenses must be purchased when more than 1 user accesses SEMI reports/databases**
Key Highlights
Tracking advances in packaging technology, which directly affects chip performance, reliability, and cost, requires the understanding of company offerings by location. Key features of the updated report include:
2021 edition includes over 100 new facility additions compared to 2019 report
The world's Top 20 OSAT companies in 2019 and 2020
More than 200 companies and more than 475 total back-end facilities
Over 325 facilities with Test capabilities
Over 100 facilities offering leadframe CSP
Over 80 bumping facilities, including over 50 with 300mm wafer bumping capacity
More than 90 facilities offering WLCSP technology
New facilities offering Fan-out wafer-level packaging (FOWLP) and Fan-out panel-level packaging (FOPLP)
Over 110 OSAT facilities in China, over 100 in Taiwan, over 45 in Americas
Over 50 IDM A&T facilities in Southeast Asia, around 25 in China, and around 20 in Americas
Product Information
Features

Manufacturing site information
Packaging technology capabilities
Plant site applications capabilities
Type of services offered
Manufacturing specialization by facility

Benefits

Gain insight into worldwide IDM assembly/test and OSAT facilities capabilities and expertise.
Understand key packaging capabilities and technologies by IDM and OSAT.
A tool to identify new business opportunities and assess competition.
Empower your market research with verified, validated, and credible information.