Publication Date:
Principal Analysts:
Kim Sin, Market Analyst, SEMI China
Format:
Adobe® PDF (.pdf), Microsoft® Excel® file (.xls)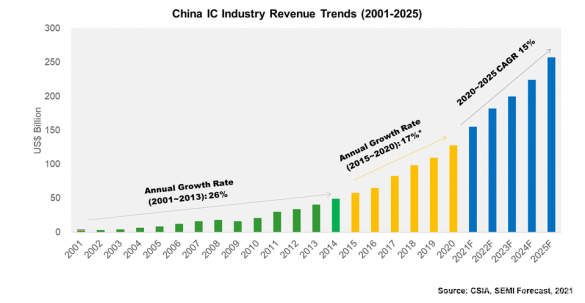 In less than a decade, China's semiconductor industry has exploded and become one of the largest consumers of chips in the world. From 2015 to 2020, China's IC industry revenue expanded at a 20% CAGR to $128 billion. By 2025, this total is forecasted reach $257 billion.

The China IC Ecosystem Report, 2021 Edition, contains in-depth analysis of China's wide-ranging IC manufacturing ecosystem, including China's IC design, IC manufacturing, packaging and test, capital equipment and semiconductor materials market and industries. Additionally, it contains timely information about the China IC ecosystem challenges, opportunities, and market projections across the semiconductor supply chain.
**Multi-user and Enterprise licenses must be purchased when more than 1 user accesses SEMI reports/databases**
Product Information
Features

Contains over 100 pages, and 70 charts, graphs, data tables, and industry maps ideal for presentations
Detailed research data and analysis by IC industry segments from design, fabless, device manufacturing, packaging, assembly, and test, to equipment and materials
The latest on China government policies and investment overview
China's IC industry environment and outlook

Benefits

Gain timely insights about market-moving developments across China's IC markets.
Understand the economic and political implications of China's IC Industry on the worldwide electronics manufacturing and design ecosystem.
Access credible primary data about domestic and international companies to validate strategic planning.
Identify business opportunities and benchmark competitors across the China IC supply chain.
Table of Contents: China IC Ecosystem Report, 2021 Edition
I. Executive Summary & Methodology
II. Global Semiconductor Industry Overview and Outlook
III. China Government Policy and Investment
IV. The Rise of China's IC Industry
V. China IC Industry Ecosystem
IC Design
IC Manufacturing
IC Packaging & Test
Materials
Equipment
VI. Summary
VII. Acronyms